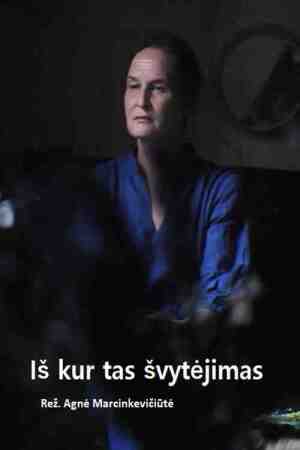 Where does that glow come from
Where does that glow come from
The film portrait of the painter Nomeda Saukienė actualizes the eternal theme of human creativity and human vocation in a special way. Nomeda far away from artist gatherings, manifests, slogans of feminism ... her path of calm, patience: motherhood, motherhood, creativity in the small town of Dusetos, in the shade of the always famous artist Šarūnas Sauka, now watching her children's first steps into the art world. The question is how do they manage to reconcile family and individuality, home life and creativity. What is important in human relationships and where does that glow in Nomeda's painting come from?

The main characters of the film are Nomeda Saukienė and her works, but her contact with her family is vital to the film's storyline. First of all, she is her husband - perhaps the most famous (after M.K.Ciurlionis) Lithuanian painter, the charismatic Šarūnas. Also integral are the children who have grown up now and left their parents' homes, and once occupied most of Nomeda's time, they have been immortalized in many of her canvases. This vector also reveals Nomeda's roots to the future: grew up in the family of poetess, educator Love Kudarauskaite and assistant professor of economics Alfonsas Bunkus in Vilnius and now lives in her grandmother's house. In the world of renegade, hermit, the Duset campus and the beauty of the neighborhood, as well as less poetic episodes like mushrooming and fishing, play an important role.
Distribution countries:



Duration: 52 Min.
Quality: FHD
Language: